To protect clean water, we must protect healthy land
Do you know where your water comes from? And I don't mean the kitchen faucet, outdoor spicket, or well. The real source of your drinking water is actually a nearby river or creek. If you live in the City of Winchester, Virginia, chances are it comes out of the Shenandoah River. If you live the Washington, DC, area it comes out of the Potomac River.
That's right. You're drinking river water!
The most effective and efficient way to ensure our drinking water is safe is to protect the lands that drain into it. Our waters are only as healthy as the lands that surround them.
What's unique about the private lands Potomac Conservancy protects is that they all have tree-lined streams. Naturally vegetated or forested strips along waterways are called riparian buffers. These buffers help make our creeks and streams swimmable, fishable, and drinkable by stopping pollution before it enters the water.
Scroll through the images below to see how protecting private lands protects your drinking water and improves our quality of life. Some of the benefits might surprise you! Plus check out these other great photo essays in our series, Everyone Benefits from Land Preservation: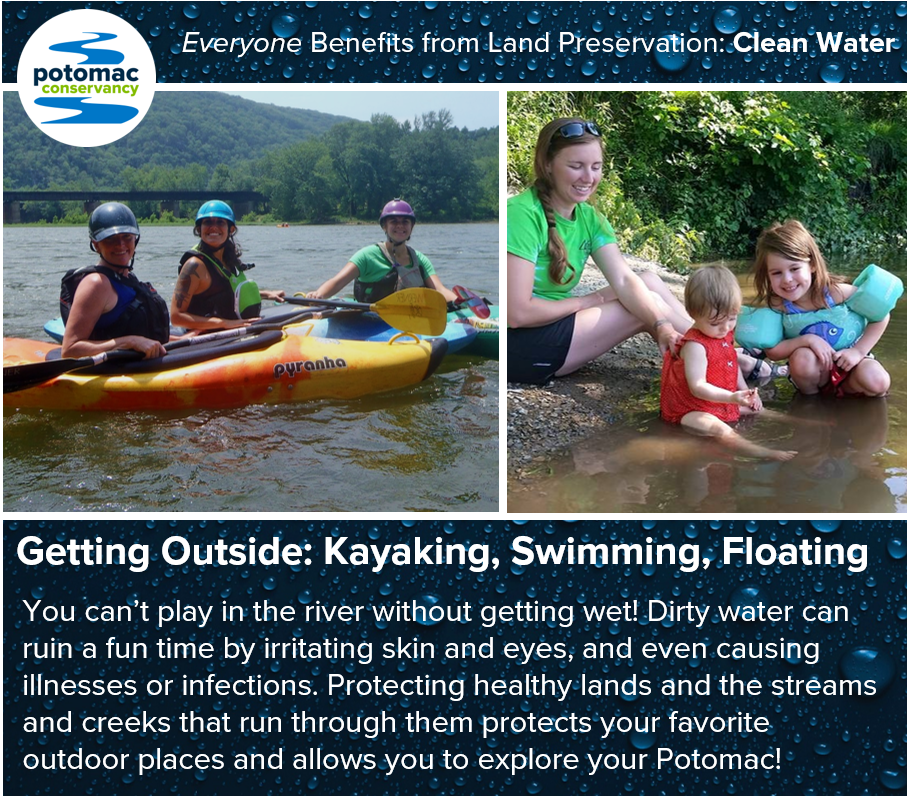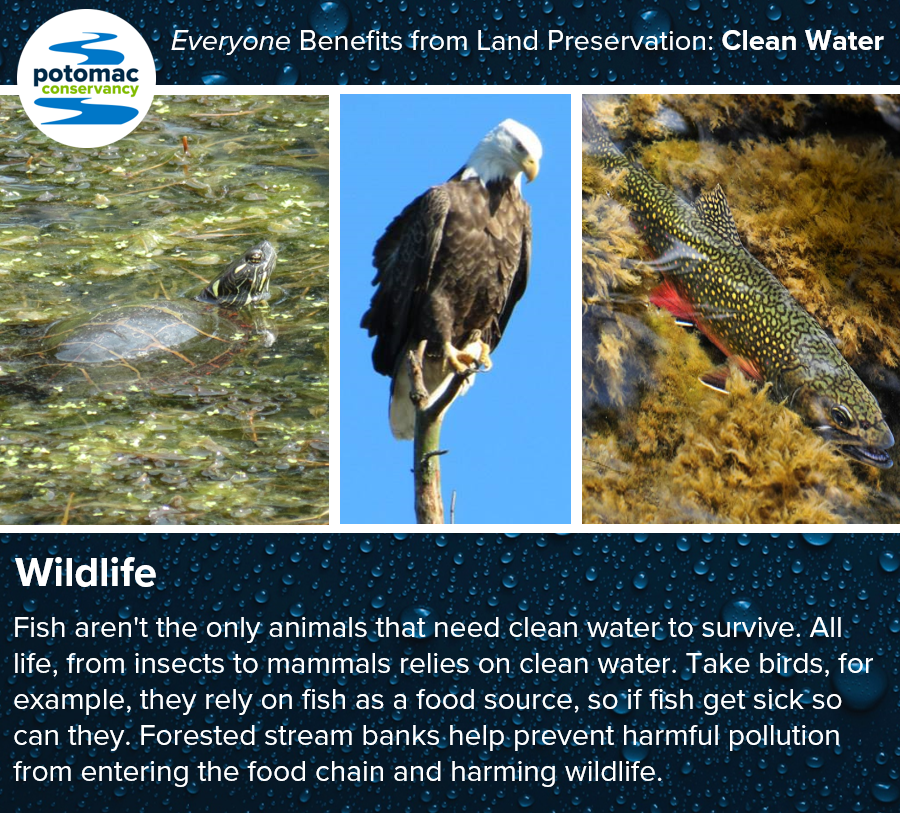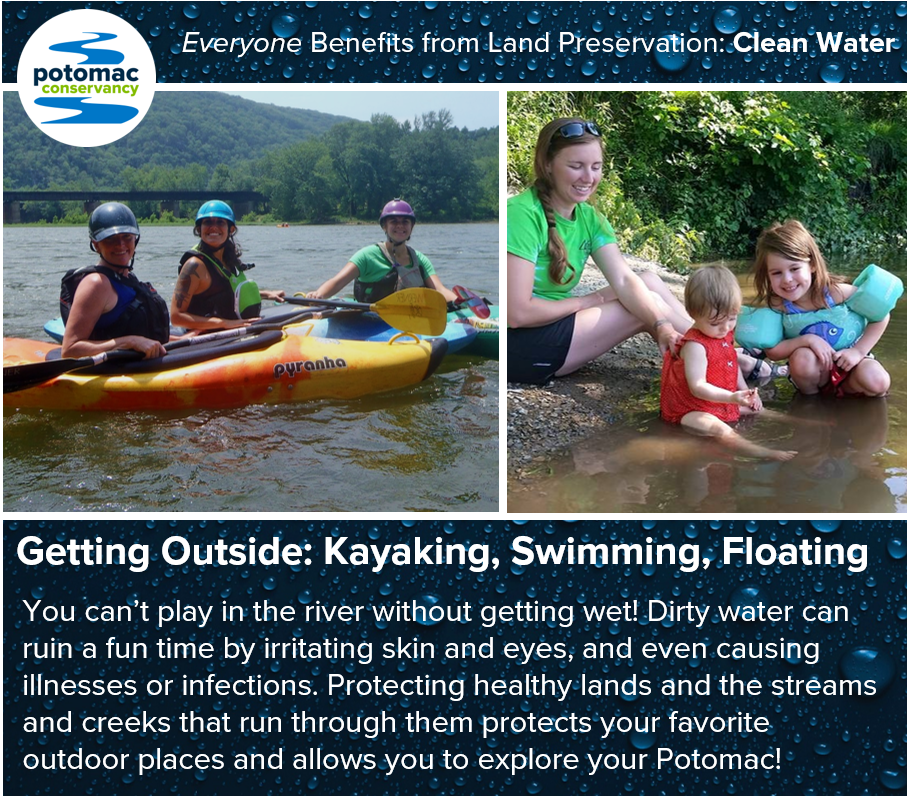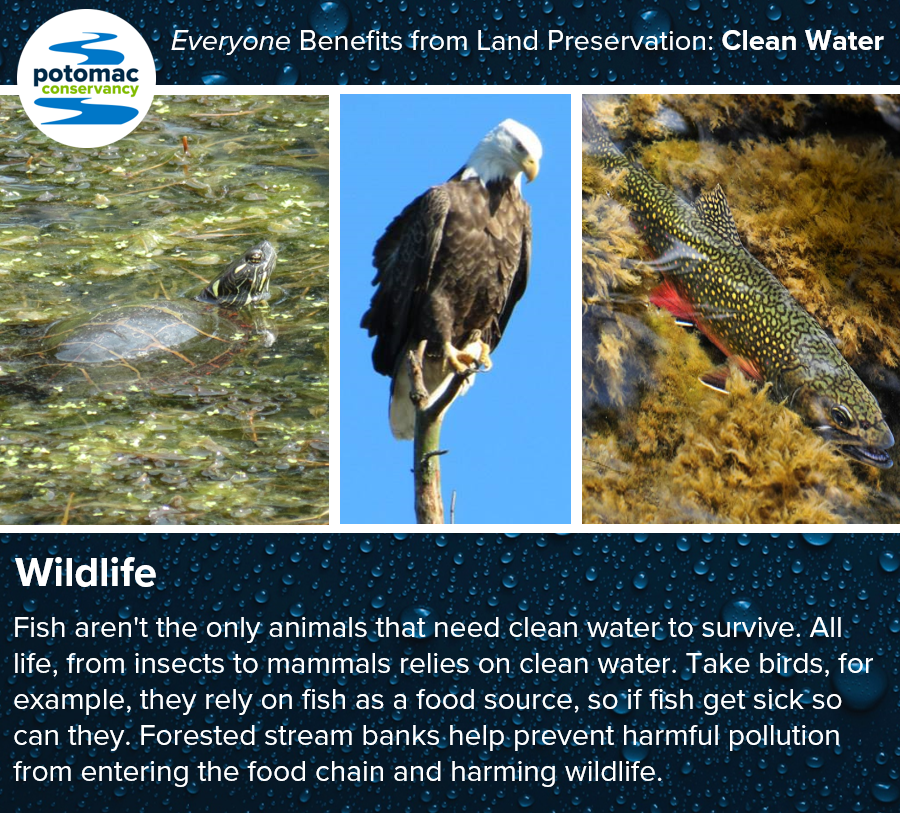 Safe Drinking Water
Whether you're filling up your water bottle from your tap or sitting down for dinner with your favorite local wine or beer, chances are you're drinking water that came from a nearby river or creek. Water treatment plants can only clean so much. One of the best ways to ensure our water is safe for drinking is to protect and care for the lands that drain into our local waterways.
Outdoor Recreation: Kayaking, Swimming, Floating
You can't play in the river without getting wet! Dirty water can ruin a fun time by irritating skin and eyes, and even causing illnesses or infections. Protecting healthy lands and the streams and creeks that run through them protects your favorite outdoor places!
Wildlife
Fish aren't the only animals that need clean water to survive. All life, from insects to mammals relies on clean water. For example, bird, like bald eagles, rely on fish as a food source, so if fish get sick so can they. Naturally vegetated stream banks, especially those that are forested, help prevent harmful pollution from entering the food chain and harming wildlife.
Safe Food (Wild Fish & Game)
Whether it's fish, pheasant, deer, or any other wild game, animals can absorb contaminants from the water they live in or drink from. Protected forests and riparian buffers prevent toxins from reaching the water and, consequently, from reaching the animals we eat. Protecting clean water and healthy lands protects human health.
Safe Food (Pasture and Crops)
Livestock drink water and crops absorb it. Keeping our local streams and creeks clean by responsibly managing and protecting the lands that surround them, helps ensure that the food we raise is healthy, making it safer for us to eat. Implementing Best Management Practices (BMPs) on working lands can also help protect family farms and local economies from damage caused by flooding and natural disasters.
Our Pets
Our pets need clean water to swim in and drink from on warm sunny days. Polluted water can irritate our best friends' skin and eyes or even get them sick. This is especially true after heavy rains when polluted runoff floods streams and creeks. By protecting healthy lands, we help protect water clean that keeps our pets healthy and happy.
Interested in Land Conservation?
Would you or someone you know like to leave a legacy by protecting the natural resources, beautiful scenery, and unique characteristics of his or her land with a conservation easement? Or, would you like to learn how you can support private land conservation?
Visit potomac.org/lands for more details or contact me, Tracy, at 540-667-3606 or lind@potomac.org at our Winchester, Virginia office.